Published:
November 14, 2018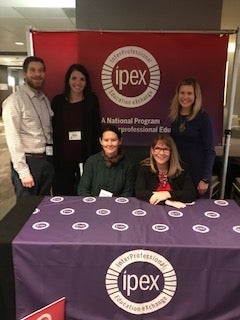 A delegation of interprofessional faculty providers were competitively selected to attend the NCI-funded iPEX training in Chicago from November 11-14, 2018 to present and develop a training that advances interprofessional palliative care education.
Dr. Barbara Jones, Associate Dean for Health Affairs at the Steve Hicks School of Social Work, Associate Director of Social Sciences and Community Based Research at LIVESTRONG Cancer Institutes at Dell Medical School, and Founding Steering Committee Member of the UT Center for Health Interprofessional Practice and Education (IPE), led the collaborative effort for interprofessional faculty to successfully apply to attend the Interprofessional Education Exchange (iPEX) Project training that is sponsored by the National Cancer Institute. This selection process is highly-competitive and faculty providers who participate will further develop, implement, and evaluate interprofessional education in oncology, as well as serious illnesses that include cardiovascular or neurologic diseases.
Dr. Jones, along with Rich Bottner, PA-C (Dell Medical School), Molly Curran, PharmD (College of Pharmacy), Ashley Henneghan, PhD, MSN, RN (School of Nursing), and Clarissa Johnston, MD, FACP (Dell Medical School), provided a presentation titled, "Integrating Palliative Care into a Longitudinal IPE Course." These faculty highlighted the Foundations of Interprofessional Collaborative Practice course that they facilitate and that features innovative palliative care modules where medicine, nursing, social work, and pharmacy students learn alongside each other with the objective that they will become collaborative, person-centered providers who transform health care culture. As recipients of the iPEX training, this team returns to UT strengthened in concepts around developing interprofessional learning and leadership opportunities that advance collaborative, person-centered care. This team is supported by the Center for Health IPE, which serves as UT's central body to promote innovative learning experiences, disseminate best practices, convene key health and education stakeholders, and champion impact- driven scholarship to transform health professions education through collaborative interprofessional practice.
About the Center for Health IPE
The UT Austin Center for Health Interprofessional Practice and Education's mission is to lead innovative interprofessional education, practice, and scholarship that advances collaborative person-centered health care and population-oriented health. The Center for Health IPE is housed out of the School of Nursing at 1710 Red River Street in Austin, Texas. Veronica Young, Director, may be reached at youngv@austin.utexas.edu and 512.475.9755. Lauren El-Assad, Program Manager, may be reached at lauren.el- assad@austin.utexas.edu and 512.471.9606. Learn more at https://healthipe.utexas.edu.
###