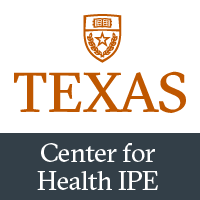 IPE Resources
These pages contain resources and tools meant to grow IPE's community of knowledge and disseminate information about collaborative learning and practice.
HIPE Center Resources
View this page to access materials and resources to advance interprofessional practice and education. 
National Expert Panel Identifies Characteristics of Quality IPE and Develops Assessment Instrument 
A national expert panel led by Joseph Zorek (UT Health San Antonio) and Kelly Ragucci (American Association of Colleges of Pharmacy, with Dr. Veronica Young representing UT Austin, gathered in 2021 to develop an IPEC institutional assessment instrument to determine the quality and sustainability of IPE at an institution. The course of their work over 1+ year resulted in the identification of institutional characteristics associated with high quality programmatic IPE and the development of the assessment instrument. Click here to access the journal article that outlines this work, that was published December 2022. 
Structured Interprofessional Shadowing Toolkit 
Interprofessional Shadowing (IPSh) occurs when a learner from one profession spends time observing and interacting with practitioners or learners of another profession. This toolkit was co-developed by The University of Texas at Austin's Center for Health Interprofessional Practice and Education and the University of Alberta and is available on the National Center for IPE's website. The toolkit includes resources designed for students, preceptors, practitioners, and placement coordinators to help make the most of an IPSh experience. Learn more by clicking here. 
Guidance on Developing Quality Interprofessional Education for the Health Professions
In February 2019, the National Center for Interprofessional Education, in partnership with the Health Professions Accreditors Collaborative, released Guidance on Developing Quality IPE for Health Professionals. The guidance seeks to facilitate the preparation of health professions students for interprofessional collaborative practice through accreditor collaboration and to provide consensus for how institutions may best develop, implement, and evaluate systematic IPE approaches and plans.