Mission
Lead innovative interprofessional education, practice, and scholarship that advances collaborative person-centered health care and population health.
Vision
Transform health care by developing an internationally recognized center that prepares interprofessional leaders and conducts scholarship in collaborative practice and system innovation.
People
The Center for Health IPE collaborates with a diverse network of professionals who are passionate about promoting collaborative learning and practice.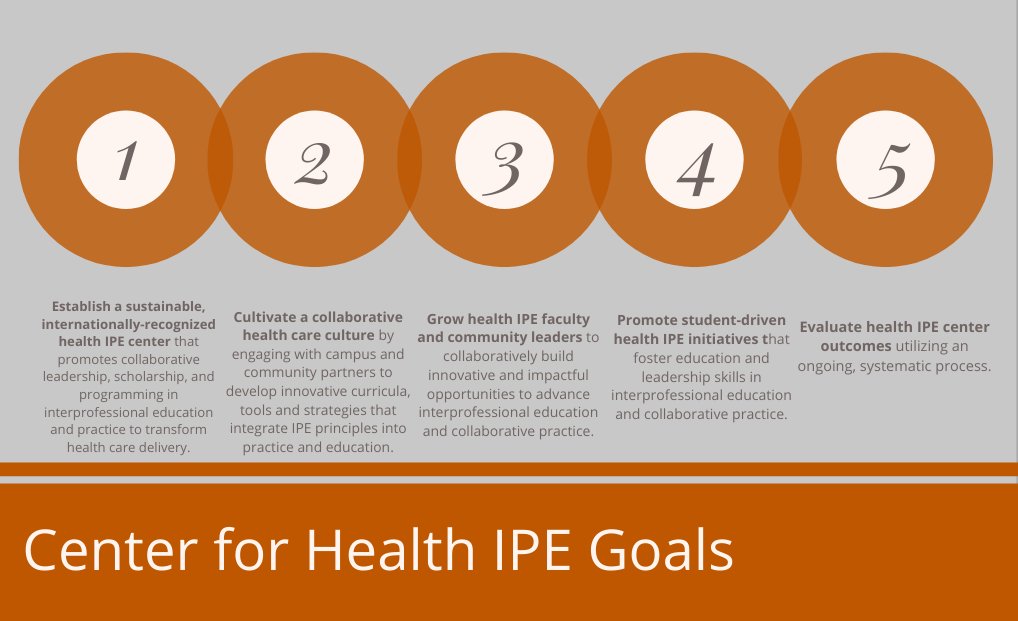 Center for Health IPE Annual Report 
View or download the 2018-2019 Annual Report 
CenterforHealth_AnnualReport_18-19 High Res.pdf
View or download the 2017-2018 Annual Report 
UT Center for Health IPE Annual Report 17-18.pdf
Our Story
UT
launched
the Center for Health IPE (CHIPE) with approval and start-up funds from the Office of the Executive Vice President and Provost. Prior to this launch, faculty champions spearheaded innovative interprofessional learning opportunities in health programs across campus. These efforts were strengthened by Health Resources and Services Administration (HRSA) program grants and bolstered by Dell Medical School's presence that emphasized IPE as a part of its vision. The four deans of UT's health professions schools -
M. Lynn Crismon,
PharmD (College of Pharmacy),
Clay Johnston
, MD, PhD (Dell Medical School),
Alexa Stuifbergen
, PhD, RN (School of Nursing), and
Luis Zayas
, PhD (Steve Hicks School of Social Work) - stressed the need for a central IPE body on campus. They worked collaboratively with faculty champions at each school to see the Center for Health IPE come to fruition. These four health professions schools continue to be strong CHIPE partners,  with leadership from each school providing oversight and support for its operations and vision.  
How CHIPE Transforms Health Care Teams 
Brings together schools, colleges, centers, and health professions programs interested in building collaborative learning opportunities for students and residents

Convenes stakeholders from the university, health institutions, and community to explore innovations in health professions education, practice, and community engagement

Provides trainings, consultations, and resources to advance team-based care in the interprofessional clinical learning environment 

Supports health professions programs in integrating interprofessional education into respective curricula to address accreditation standards

Provides training and professional development opportunities for faculty, staff, health practitioners, and other professionals

Supports student-driven interprofessional initiatives that aims to improve health and the delivery of care
​Support Interprofessional Practice and Education  
CHIPE brings students, residents, educators, and practitioners from different professions together to create expert health care teams who are skilled in collaborative, person-centered care. We are focused on connecting academia to practice to create a more collaborative, efficient, and effective health care system. A tax-deductible gift ensures that we can support programming that transforms learning experiences, health care practice, and - ultimately - health care systems. Your
support
allows us to:
Build student leaders

by supporting health IPE student organizations, including the Student Health IPE Committee and the UT Austin chapter of the 

Institute for Healthcare Improvement Open School

. Your gift also helps us to support interprofessional student teams to compete in local and national health IPE case competitions. These experiences help students to think in a more collaborative, critical, and innovative manner to solve complex, real-world heath care practice issues. 

Convene health IPE learners by supporting forums for academic and community stakeholders to learn with, from, and about each other to advance collaborative practice and population health. Forums include interactive workshops, scholarship showcases, professional development experiences, and continuing education opportunities. 

Grow faculty leaders

by providing them with innovative training experiences that allow them to serve as change agents who are equipped to educate students in the

tenets

of collaborative care competencies. 

Advance research and scholarship by providing seed money for research that fosters interprofessional impact-driven scholarship.  

Create resources by giving diverse audiences access to health IPE learning materials to promote team-based care and improve population health.

Purchase equipment and supplies by enabling us to buy the latest technology for simulations that provide hands-on, real-world experience for health care practitioners.      
Click
here
to support the Center for Health IPE.