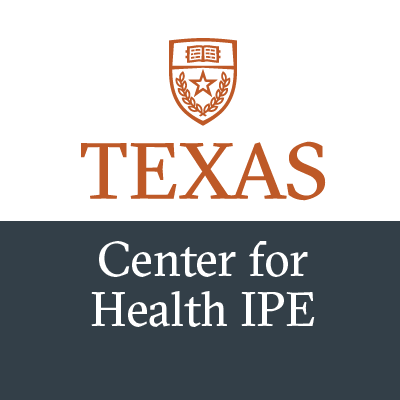 IPE: A Core Component of Health Care Education
The programs listed below describe established learning experiences that have become integral components of UT Austin's health IPE landscape.
Curricular Learning 
The 
Foundations of Interprofessional Collaborative Practice (FICP) 
course launched in Spring 2017 with a focus on applying interprofessional collaborative practice competencies. This course averages 266 students from pharmacy, medicine, social work, and nursing who learn together on interprofessional teams. Topics include Team Communication, Applying
TeamSTEPPS
® Tools to Transitions in Care, Team Communication Palliative Care, and Team Error Disclosure. This dynamic, interactive course is designed to change the future of health care by providing future health care practitioners with the competencies needed to deliver high quality, team-based care.  
Graduate Student IPE Learning Experience 
Since Fall 2017, medicine, nursing, and pharmacy faculty members* have collaborated to provide over 200 learners (each semester) from Nursing (N386Q), Medicine (MED192IE), and Pharmacy (PHM 282S) the opportunity to participate in an asynchronous, online, discussion-based interprofessional education (IPE) experience that centers on quality improvement and patient safety. With health care errors being the third leading cause of death in the U.S., training all health care professionals on quality improvement and patient safety is foundational to improving health outcomes, population health, and efficiency of care. Over a two-week period in the fall and spring semesters, 200+ students from all three professions come together in an online forum to delve into issues of quality and safety. The two-week assignment begins with the presentation of a health care scenario or case study. Learners are provided prompts and discussion questions to provide the foundation for the IPE discussion. During the second week learners reply to postings by team members from a different profession. Discussion debriefing occurs within the main professional course and students are provided the opportunity to provide feedback.
Simulations
Health and Well-Being for All Virtual Simulation - Launched in 2020, this simulation is adapated from an in-person Centers for Disease Control and Prevention simulation that focuses on social determinants of health. Participants are placed in interprofessional teams and learn to engage in a community task force meeting to propose an intervention using a 6-step improvement model. In the process, participants explore how SDOH impact their understanding of and biases around obesity. Each team is facilitated by an advanced learner who received just-in-time training on interprofessional, small group facilitation.  
Poverty Simulation -
Held biannually on campus, the Poverty Simulation offers a unique, interactive experience that is designed to help participants appreciate the challenges involved living in poverty. Students, faculty, staff, and community members are encouraged to volunteer. This simulation is designed to help participants "re-think" poverty and explore how individuals and organizations may find new ways to assist those facing disparity everyday. 
Learn more>
Hospital Clinical Day Simulation - During this simulation, students – outfitted with a variety of simulated wounds, IV's, and monitors – serve as patients for nursing, social work, pharmacy, and nutritional sciences students who are tasked with working together to deliver care. This simulation is held at the School of Nursing and the dynamic scenarios test the students' abilities to react on their feet, cope with real-world situations, and apply critical thinking skills.
Disaster Drill Simulation - One afternoon per semester, nursing and social work students respond to a disaster (tornado, bombing, etc..), working in teams to triage and provide on-site care.
Alcohol Withdrawal/Suicide Recognition Simulation - Nursing and social work students work together to care for a simulated patient experiencing alcohol withdrawal, experiencing a week of withdrawal over several hours. They're also trained to recognize and address possible suicide risks. 
Palliative Care Simulation - Medicine, nursing, pharmacy, and social work students in the Foundations of Interprofessional Collaborative Practice (FICP) course (described above) work in interprofessional cohorts to simulate team-based care for a complicated palliative care case. 
End-of-Life Simulation - This simulation involves nursing and social work students coming together to address end-of-life issues with patients. 
*Marge Benham-Hutchins, PhD, RN1; John Luk, MD2; Daniel Richards, MD2; Veronica Young, MPH, Pharm D3 ; Leticia Moczygemba, PhD, Pharm D3 
1 The University of Texas at Austin, School of Nursing; 2 The University of Texas at Austin, Dell Medical School; 3 The University of Texas at Austin, College of Pharmacy

Educating for Change
"I wouldn't work as proficiently on an interprofessional healthcare team had I not participated in IPE. I am better equipped to advocate for patients with the practice I received in the class." Madison Kirk, Social Work student