Explore Opportunities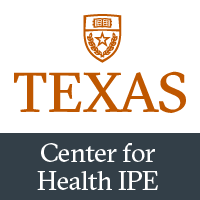 You can be a part of transforming the culture of health care education and practice to make it more collaborative and person-centered. We have opportunities for all levels of learners to get involved in interprofessional learning and practice. Scroll down to learn more. 
Overview
The Center for Health IPE advances collaboration among health professions students, faculty, and practitioners at UT Austin and beyond through courses, simulations, team trainings, IP student consulting, interactive workshops, research, scholarship, and IPE resources. We work with health care students, faculty, staff, practitioners, and community members to lead, initiate, and support interprofessional learning activities that foster a collaboration-ready workforce equipped to deliver safe, patient-centered care. Our work results in: 
Faculty who are engaged in interprofessional practice, research, and scholarship 
Health care education that reflects practice settings 
A collaboration-ready workforce 
Recognition of UT Austin as a leading IPE institution 
Impactful interprofessional partnerships 
Health care teams that are trained in teamwork skills 
Future IPE champions and leaders 
Let's Collaborate
Learn more about how the Center for Health IPE can support your work.
Invest in the Center for Health IPE
Support impact-driven interprofessional health care education, practice and scholarship.