Interprofessional Innovations in Addressing Opioid Misuse and Treatment 
By Claire Zagorksi 
May 22, 2020
 
Clarie Zagorski is a licensed paramedic who currently focuses on harm reduction work as the program coordinator for the Pharmacy Addiction Research and Medicine (PhARM) Team at The University of Texas at Austin College of Pharmacy. In 2019, the PhARM Team was awarded a $7.2 million grant from the Texas Health and Human Services Commission's Texas Targeted Opioid Response (TTOR) to address the opioid epidemic leveraging UT Austin's interprofessional strength. In this piece, she provides an overview of TTOR's key programs and the cross-collaborative team leading these efforts, including Lucas Hill, PharmD, the grant's principal investigator, and Rich Bottner, PA-C, director of the B Team at Dell Medical School. Both Hill and Bottner are Health IPE Fellows who represent the highest level of IPE ambassadorship and promote interprofessional education and practice among health professions learners in all stages of their careers.

Pictured: Claire Zagorski
What comes to mind when I say that I'm a paramedic? Probably what Hollywood has coached us to think - a steady stream of carnage and drama, and perhaps heroic last-minute saves from burning buildings and twisted heaps of metal. Right? When I first set foot on an ambulance at 22, I assumed all of this was true. I rode overnight with a team based at 5th and Trinity streets, the heart of Austin's electric downtown, and quickly learned the reality of EMS - that we are, increasingly, much more mundane - a stopgap for the insidious consequences of poverty, racism, inequitable access to healthcare and housing, and the other social factors which largely determine health. And one of the manifestations of this, which I saw over and over again in the years that followed, is what we know as the opioid crisis. 
Drug use has always been a discomfiting topic for many, but the opioid crisis has thrust this sub rosa reality into headlines and the public consciousness. More so, the opioid crisis has proved to be exceptionally deadly. Since 1990, the number of Americans who have died every year from drug overdoses has risen over 650 percent, making drug overdose more deadly than gun homicides and car crashes combined, and overdoses are only one part of the death toll from opioid misuse. As you might imagine, seeing this up close prompted action. While I might have started out my career expecting Grey's Anatomy-worthy plotlines, seeing that the care of my community's health was far more about tackling social inequities and developing canny policies led me to harm reduction work and my role as the program coordinator for the Pharmacy Addiction Research and Medicine (PhARM) Team at The University of Texas at Austin College of Pharmacy.

Pictured: Lucas Hill 
In 2019, the PhARM Team was awarded a $7.2 million grant from the Texas Health and Human Services Commission's Texas Targeted Opioid Response (TTOR). This award recognized the incredible array of opioid-related academic and clinical expertise here on the Forty Acres. My supervisor and the lead principal investigator, Dr. Lucas Hill (pictured left), is a pharmacist and College of Pharmacy clinical assistant professor who's staked his career on studying opioid misuse and developing novel ways to reduce the harms stemming from it. This includes launching Operation Naloxone (OperationNaloxone.org), a program which trains Texas health professionals and students to prevent opioid overdoses by increasing access to the life-saving antidote. Operation Naloxone began as a campus-based program in collaboration with Dr. Lori Holleran Steiker at the Steve Hicks School of Social Work and Mark Kinzly from the Texas Overdose Naloxone Initiative. These campus trainings continue today with support from SHIFT (shift.utexas.edu), teaching Longhorns how to identify an opioid overdose and empowering them to save lives. Every attendee at an Operation Naloxone class walks away not only with new knowledge, but also a box containing two doses of naloxone, easily and quickly sprayed up the nose like any other familiar nasal spray.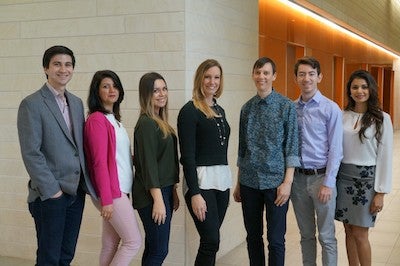 Pictured: Kasey Claborn (center, black shirt) and her team on Project CONNECT
The PhARM Team relies on several key contributors across UT-Austin to achieve the best possible results from the TTOR funding. One of these outstanding collaborators is Dr. Kasey Claborn, a PhD researcher and licensed clinical psychologist at Dell Medical School. Her team, Project CONNECT, is tackling a Texas-sized problem - that of data. In a state as big as Texas - both in terms of population and square feet - gathering good, reliable data on the rates of opioid overdose is a mighty challenge. Not only is there not one centralized platform for opioid overdose reporting, but many overdoses go unreported altogether, as people who have experienced an overdose are commonly fearful of legal or professional repercussions, shame and stigma from their communities, or simply distrust public safety and healthcare personnel. Indeed, years of marginalization has encouraged people who use drugs to look to each other for support and safety, instead of placing trust in spaces that have a history of reinforcing stigma against them. Dr. Claborn's current work is in the development of a single, centralized opioid overdose reporting system. She and her team are not only researching best practices on the technology and user experience side, but they're speaking directly to dozens of people who use drugs, harm reduction experts, community leaders, judges, and other stakeholders to design an implementation strategy that will be most likely to be accepted, embraced, and used widely. This tool will give us the data necessary to spotlight the specific ways in which we can help more Texans who use drugs.
Rich Bottner is a physician assistant at Dell Seton Medical Center, affiliate faculty at Dell Medical School, and the director of the B-Team, (short for Buprenorphine Team) a program which offers buprenorphine, an evidence based medication for the treatment of opioid use disorder, to patients in the hospital. If a patient is interested in the treatment, they can start right away. This may sound like an obvious part of patient care, and in many ways it is, but programs like the B-Team are rare creatures. In almost any other place, a patient interested in starting buprenorphine for opioid use disorder wouldn't be able to do so during a hospital stay. In fact, they'd be asked to track down one of the fewer than seven percent of physicians in the country who can legally prescribe it, most of whom work in the outpatient clinic setting. Buprenorphine is locked behind the gates of the "x-waiver", an 8-hour standardized training that physicians, physician assistants and nurse practitioners have to complete before they can prescribe this medication for opioid use disorder. Buprenorphine is not uniquely complex or difficult to manage, but is much harder to access than opioid medications themselves. Rich, along with Dell Medical School's Dr. Chris Moriates, saw an opportunity in this paradox, and launched the B-Team to dramatically improve the ability of Austinites with opioid use disorder to get the best treatment.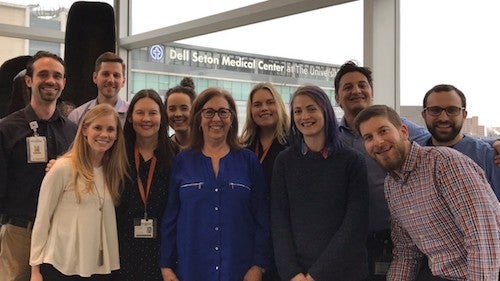 Pictured: The interprofessional B-Team (left to right): Evan Solice, chaplain; Kirsten Roberts, pharmacist; Ken Giorgi, nurse; Clarissa Johnston, palliative care and hospital medicine physician; Rachel Holliman, social worker; Elise Carper, palliative care advanced practice nurse; Blair Walker, psychiatrist; Amber Dunbar, medical student; Chris Moriates, hospital medicine physician; Rich Bottner, physician assistant; Nick Christian, internal medicine resident.
Not only has the B-Team's work connected more people in Austin to care, but it has also cultivated a welcoming atmosphere for people who use drugs at Dell Seton Medical Center. One of Rich's passions is combating the stigma against people who use drugs which interrupts and erodes patient-provider trust and contributes to worsened outcomes for our patients. To help address this, his team is developing online stigma-reduction modules with support from a grant from the Association of American Medical Colleges. These modules will serve as an educational and resource hub for other healthcare providers around the country looking for tools to fight stigma in their workplace. To Rich, communication and word choice matter, and are integral to the broader work to be done on the opioid crisis.
Drug use and dependence are complicated and often misunderstood issues, so another key part of our work is reconsidering how we communicate about them. Thankfully, at a place like The University of Texas at Austin, industry-leading communication experts are close at hand. Dr. Michael Mackert and the Center for Health Communication - part of both the Moody College of Communication and Dell Medical School - are core members of our team, developing tools to directly combat opioid misuse and overdose in Texas. By increasing knowledge of opioid overdose risk factors, awareness of alternative ways to manage pain, and familiarity with skills and techniques that have been shown to deter opioid misuse, Michael and his team are working to shift the conversation around opioid misuse and overdose to one that's positive and productive, resulting in a healthier and more informed Texas.
The opioid crisis has shifted the ground beneath our feet, and demands innovative action. It is not a single-issue problem, and so demands the interprofessional collaboration being undertaken here at The University of Texas at Austin. Indeed - what starts here changes the world.
Email us to contribute your own entry about your interprofessional practice experience.