Health and Well-Being for All Virtual Simulation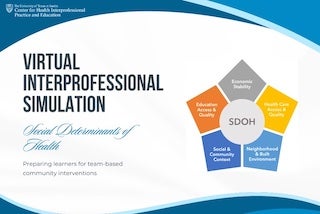 Audience: Students, residents, faculty, and community practitioners / clinicians with an interest in health care are encouraged to sign up. Simulation roles include team facilitators, participants, and observers. The Center for Health IPE will assign your role. Facilitators are asked to do a small amount of prep work for their role. 
Day and Time: The simulation is virtual and will begin at 9:00am on March 2, 2024 and end at noon. Facilitators are asked to arrive at 8:30am and will stay until 12:30pm to debrief. 
Interested in attending or in sending students or residents? Contact us for more info! 
Background: This simulation is based on an in-person simulation developed by the CDC. Faculty from the Center for Health IPE and the Steve Hicks School of Social Work adapted it to a virtual format to reflect contemporary issues. Utilizing both real-play and role-play methodologies, participants are placed in interprofessional teams and learn to engage in a community task force meeting to propose an intervention using a 6-step improvement model. Each team is facilitated by an advanced learner who received training on interprofessional, small group facilitation. This simulation is led by Center for Health IPE in partnership with Austin Community College Health District and UT Austin partner programs.