Social workers are licensed mental health professionals, specifically trained in understanding the unique psychosocial needs of the patient and family in their unique sociocultural context and environment. Social workers are the integrated behavioral health specialists on the interprofessional team.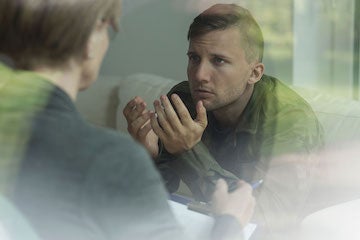 Social workers work closely with patients and their families to assist them in understanding, navigating and coping with illness and with the larger health care system. They provide empathy, listening, intervention, and support to patients and families. Social workers play a critical role in psychosocial assessment, distress screening, facilitated decision making, care coordination, navigation and understanding the patient and family needs in their cultural and social context. To that end, they may represent and give voice to the unique patient experience and how that influences their illness and recovery. 
Using their extensive knowledge in systems theory, crisis intervention, family therapy, evidence-based interventions, cultural competence, clinical intervention, and developmental needs across the lifespan, they can offer a comprehensive psychosocial assessment and care plan for the team.
Social workers are advocates for patients and families. They empower patients and families to work closely with their healthcare providers to get the services that they need. They may help the larger interprofessional team consider the psychosocial needs of the patient in their family and community. They may provide education about coping responses in the face of illness, injury, grief, or trauma.
Social workers provide support, counseling, diagnosis, and intervention to patients, families, and communities. For example, they may offer support for coping with illness, mental health counseling around specific issues, diagnostic assessment of mental health concerns, evidence-based interventions, and behavioral health change strategies. Social workers also play an important role in end-of-life decision making and grief and bereavement support.
Social workers often serve as care coordinators, bringing together the health care team and the family to facilitate a family care conference or to coordinate needed community resources and information. These activities are critical to ensure that the patient is getting the most patient-centered and coordinated care possible. 
Social workers are an integral part of the interprofessional health care team and may play multiple roles depending upon the setting. Some examples that illustrate the diversity of their roles include:
Social workers playing the role of ethical consultant to the team or to the larger health care system.

Social workers filling a communicator or translator role, helping the patient and family and healthcare team to better understand each other.

Social workers can assist families with resources related to poverty, homelessness, domestic violence, immigration, child abuse and neglect, and elder care.