The role of the physician on a health care team is multi-faceted. The physician's responsibilities are based on regulated scopes of practice. The physician is trained to provide leadership in developing and supervising the patient's overall health care plan. A physician's role can be divided into 5 general areas: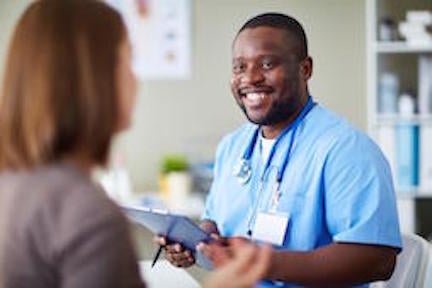 The physician takes medical histories and performs a physical examination to assess the patient to determine a possible diagnosis for both acute and chronic conditions. Diagnosis is a key feature of a physician's expertise in medical practice and is based on strong assessment skills. Diagnosis is a core cognitive skill, based on both knowledge and judgment.

The physician provides continuous care for the patient while in the hospital or ambulatory setting. They manage and treat a variety of medical conditions from minor cuts to mental health to palliative care to surgery. They are required to manage complexity and risk in situations that often times are uncertain and changing.

The physician works collaboratively with the healthcare team to provide optimal care. This includes providing referrals to other practitioners or services that the patient may need. They provide reports and updates of patient's condition and needs to other services such as physical therapy, home health services, and other specialists

The physician provides education to patients, families and support staff as it relates to the patient condition, diagnosis and treatment. The physician will offer resources with information and research that patients can use to make informed decisions about their treatment plan. The physician will often teach medical students, residents, physician's assistants, advanced practice nurses, and others about their area of expertise as well.

The physician plays a very important role as an advocate for patients and families. They help the patient navigate through a complex medical system to be able to obtain the most patient-centered care in a cost-effective manner. The physician works to identify and meet the needs of the individual patient, the practice population, and the community by working with a variety of partners in the community, public health sector and hospital system.