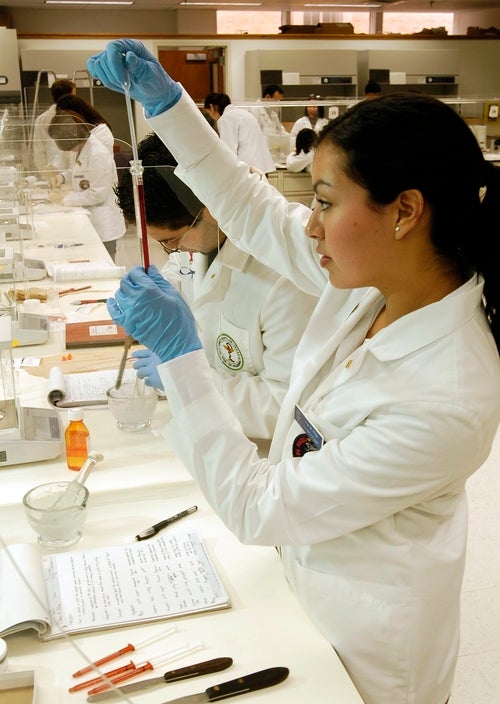 A pharmacist's unique role is in ensuring the safe, effective, and appropriate use of medications. This involves assessing the patient for medication-related issues, collecting and interpreting the evidence, prioritizing the patient's needs, recommending, implementing, and monitoring and adjusting the pharmaceutical care plan.
Pharmacists work collaboratively as members of an interprofessional health care team to provide patient-centered care by functioning as the medication expert. For example, the pharmacist would evaluate a patient's drug therapy for appropriate indication, safety profile, drug interactions and interactions with other consumed products such as food and alcohol, and a patient's response to drug therapy.
Pharmacists practice in a wide variety of settings – inpatient, ambulatory care, nursing homes, managed care organizations, pharmaceutical companies, pharmacy benefits management companies, colleges and schools, the federal government and other public health entities.
Some pharmacists work directly managing the medication use system which includes procuring medications and related items, ensuring proper storage of medications, and prescribing, transcribing, dispensing, monitoring and documenting these pharmacy activities. Examples of pharmacists involved in the medication use system include those who work in a retail pharmacy or in a hospital pharmacy.
In certain states and health care systems, pharmacists are authorized to function as providers with prescribing authority under supervision. Pharmacists obtain certification to administer immunizations, conduct medication therapy management, and become certified diabetes educators. Pharmacists also can seek board certification in specialty practice areas such as pharmacotherapy, ambulatory care, psychiatry, oncology, nutrition, infectious disease and nuclear pharmacy. Examples of other areas of practice include quality and patient safety, critical care, emergency medicine, transplant, pediatrics, and geriatrics.
Similar to most health care professionals, pharmacists contribute to the health and wellness of individuals and communities. They participate in activities that promote health and disease prevention such as health screens at health fairs, and educate the public on a wide variety of health and medication-related areas.
As an integral member of an interprofessional health care team, pharmacists, like all other health care professionals, serve as patient advocates. They deliver care based on evidence and centered on the needs, values, and culture of their patients. The ability to collaborate and communicate effectively as an interprofessional team is essential to improving health outcomes and delivering quality and safe care to all patients.