Interprofessional Health Peer Consulting Pilot Year
By Kate Galloway
May 8, 2020
Below is the 3rd blog in this series and is written by Kate Galloway, a 2nd-year MBA candidate at the McCombs School of Business who describes her experience as a peer consultant in the Interprofessional Peer Health Consulting program, which launched fall 2019. Kate's faculty mentor was Kristie Loescher, lecturer at the McCombs School of Business and director of the McCombs School's Healthcare Innovation Initiative. You can read more about this program here.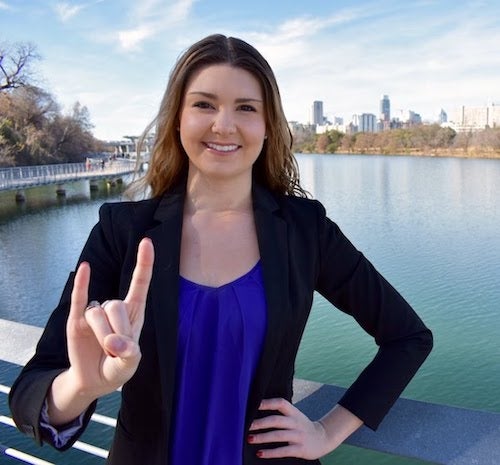 My name is Kate Galloway and I participated as part of the inaugural Interprofessional Health Peer Consulting Program. This is a fancy name for multiple health disciplines working together to improve overall care for patients. This is an opportunity for students in health or health-related programs to come together to learn from each other while also learning how to successfully work in interdisciplinary teams. I am a 2nd year MBA Student, graduating in May (Class of 2020). I was a peer consultant for the CD Doyle Clinic, addressing problems with their workflow in order to improve efficiencies and decrease waiting time for patients.  
Why is the Interprofessional Health Peer Consulting Program so important?
Prior to getting my MBA, I was a Registered Nurse in various ICU settings. I have worked in many interdisciplinary teams and have experienced the good, the bad, and the ugly. Often, it is the patient who suffers when multiple health professions are not on the same page.
The Interprofessional Health Peer Consulting Program allows students from different disciplines work together while still in a formative part of their career. When students are able to learn from and with each other, it increases understanding and collaboration. Our hope is that we will see patient outcomes and satisfaction improve due to the increased coordination between health professions. 
What does an Interprofessional Health Peer Consultant do?
As an Interprofessional Health Peer Consultant, I worked with my project team to add a business focused lens to their problem and also potential solutions. I worked to educate those with less experience in business on important concepts and applications. My recommendations incorporated feedback and insights gained from the other disciplines, hopefully leading to the best solution for the patient.
To provide a more concrete example, I worked with the CD Doyle Clinic on their workflow – or how student healthcare providers see patients. Before forming any recommendations, I interviewed Medical and Nursing students to better understand their current workflow. I also sought feedback and approval from these disciplines before making any changes. This allowed us to see things from different angles and come up with more complete solutions that worked for everyone.
What lessons have I learned from being an Interprofessional Health Peer Consultant?
Time management is a very important part of being a consultant for any kind of project. You must work diligently to set expectations and communicate thoroughly with your team. For some, this may be the first time they have worked across disciplines. Often your thought processes, school workloads, and deadlines are different. This is all a great example of what working in an interprofessional health team is like, as many professions have differing goals and timeframes. What great practice to get now!
I highly recommend the Interprofessional Health Peers Consulting Program and encourage anyone who is interested to reach out to their academic advisor on how to include this as part of your curriculum. For more information, please check out their 
website
.
Email us to contribute your own entry about your interprofessional practice experience.