Students Addressing Opioid Misuse through Operation Nalaxone 
By Maddie Burgess
November 12, 2019
Operation Naloxone (ON) is a student outreach initiative housed under the University of Texas at Austin College of Pharmacy. A few years ago, a group of pharmacy students noticed the drastic impact the opioid crisis was having on the nation. Those students saw a unique need to educate and train the community in harm-reduction strategies, specifically naloxone. Naloxone is an opioid-overdose reversal agent that have led to a 14% reduction in mortality when access to use is increased. Today, Operation Naloxone works both on campus and in the community to host naloxone trainings and distributions.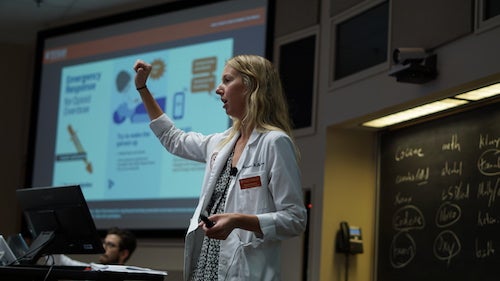 I was drawn to ON during New Student Orientation as a first year pharmacy student. I enjoyed receiving hands-on training so early in my curriculum and that it pertained to a prominent issue like the opioid epidemic. From there, I began volunteering regularly with ON. I eventually became a student leader and today serve as the Student Director. I work closely with College of Pharmacy student leaders Elizabeth Graver and Kelley White to continually improve and expand our outreach.  
For Fall 2019, ON aimed to expand its reach by hosting large scale trainings 1-2 times a semester. The first large-scale training took place on October 22nd in the Student Activities Center on campus. The goal was to reach a variety of people, from undergraduates, professional students, to university faculty and staff. During the training, participants learned about identifying opioids from a list of medications, how to recognize an opioid overdose, and how to respond effectively using naloxone.  Volunteers from the College of Pharmacy and School of Social Work lead participants in small group case study sessions to enhance their understanding following the presentation. At the end of the training, all participants received a free box of Narcan (a brand name of naloxone) nasal spray to have in the event they encounter an opioid overdose.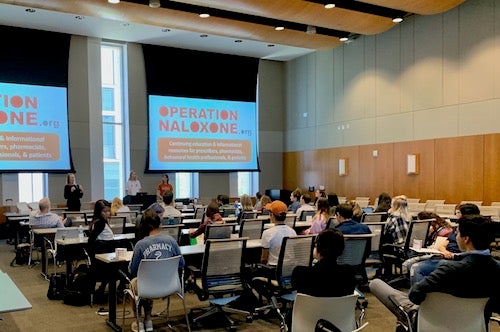 The opioid crisis is not something that will be fixed by one group of professionals, which is why team-based, interprofessional work is integral to ON's mission.  Students from the College of Pharmacy, School of Social Work, Dell Medical School, and School of Nursing complete training with ON during their curriculum. These students are then invited to volunteer with the organization at various trainings and events. By bringing together different professional students, ON is able to harness the unique knowledge of each group in order to deliver the best experience for the participants. Operation Naloxone continues to work actively on campus. If you would like to learn more about the organization, please visit:
operationnaloxone.org
or keep up with them on Facebook and Instagram: @operationnaloxone.
Maddie Burgess, BS
Doctor of Pharmacy Candidate 2021 | University of Texas at Austin
Student Director | Operation Naloxone